On my trip to Ukraine last October, before visiting Chernobyl, I had a few days to check out Kiev. On my way from the main train station to the hotel I spotted this: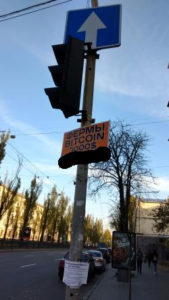 As I know now this seems to translate into something like: "Farm Bitcoin $3000". Followed by a phone number, which I removed for this blog. Interesting. Googling that number would lead you to a lot of offers for used cars. One might also speculate that this ad was not new, as one BTC was close to USD 6000 at that time.
The next day while walking around town I stumbled across a lot more of those signs. Ans I realized some other signs also used the word "Farm". This way I was able to identify more campaigns related to mining crypto currencies: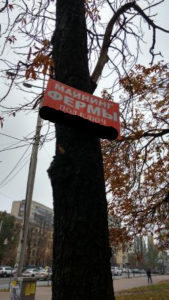 Mining Farm for customers (I'm unsure about the last two words), followed by another phone number. Googling that one leads to no usable results.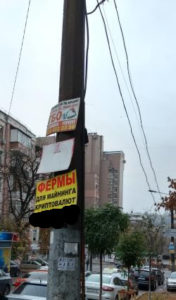 The last one is quite concrete: "Farm for the mining of crypto currencies", again followed by a phone number. Also no further usable information can be found when looking that number up on Google.
So what is going on here exactly? Serious (but high risk) crypto currency investment opportunities? Ransomware schemes that need BTC to sell to (and regain from) their "customers"? Offers for people to run mining software for money on their home computers?