Amarok 2.5 "Earth Moving" has just been released. So now it's time to have a look at all the exciting new features, as looking at bugfixes (which are important for sure) can be considered boring for a blog. ;-)
For Amarok 2.5 I have been working on integrating the Amazon MP3 store. The aim is to integrate it like any other collection. And as you are about to see we are already quite close.
You can find the service by first clicking Internet in the Media Sources panel...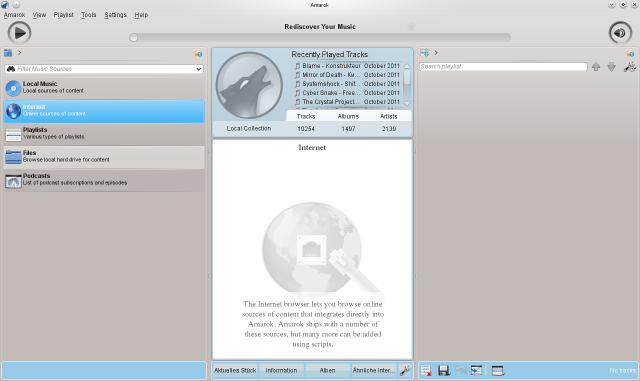 ...where you can select MP3 Music Store.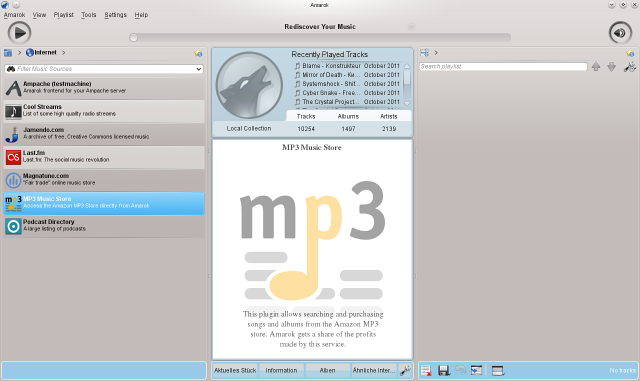 And here we are. The service should have asked you for your location, as mp3 downloads sadly are not available worldwide but only in selected countries. And at the moment you are only allowed to download songs from your local store.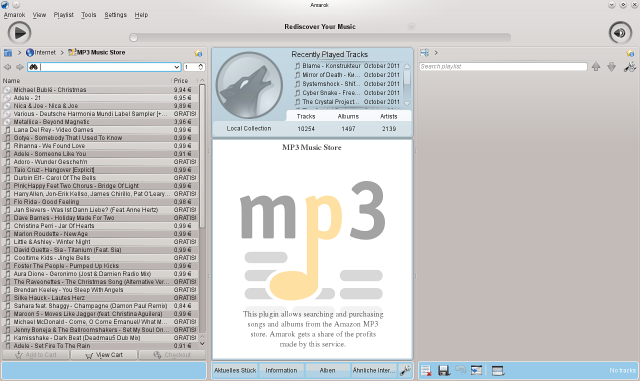 The service first loads some recommended albums (the entries on the top with the disc icon) and songs (below, with a musical note as icon). I am going to use that view now to present you some basic features. For example you can add a track to your playlist, as if it was part of your local collection. Be aware that Amazon does not offer complete previews, but 30 second snippets:

The service automatically loads the album cover of a song and shows it in the playlist. For some tracks this does not yet work, but that should be fixed in a few days: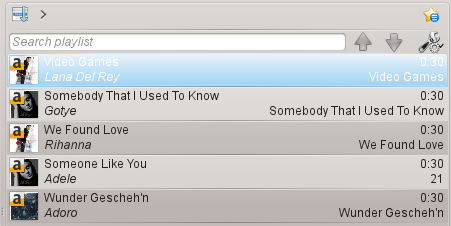 You can add tracks as usually using drag and drop, the popup dropper that fades over the context area or by using the context menu, which offers some more actions:

For tracks you can not only add the preview to the playlist but also search for the album the track is on and of course add it to your shopping cart.
Albums also allow searching for their contents:

The result might lool like this: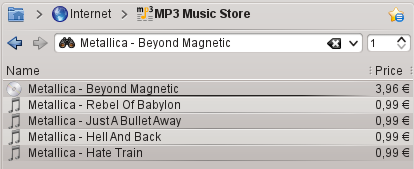 Finally I also added nice tooltips, so you can easily disinguish the same track from several albums in different versions:

When adding an item (album or track) to the shopping cart you get a small notification below the service:

And of course you can search for whatever songs, artists, albums or audio books you like: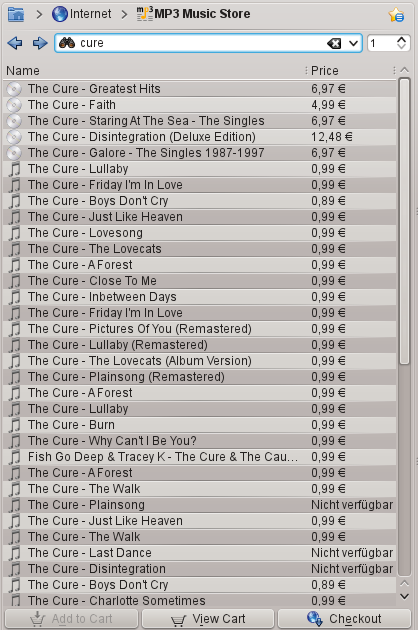 Our shopping cart, you can call it by pressing the button below the service, is quite basic, but works fine: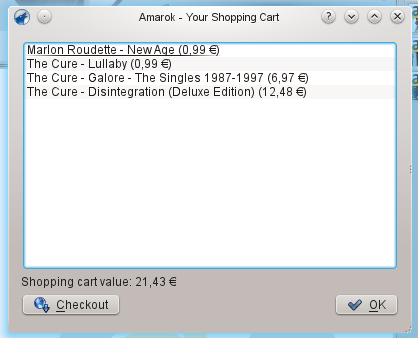 Removing items ia a matter of pressing the delete key or calling the context menu of an item: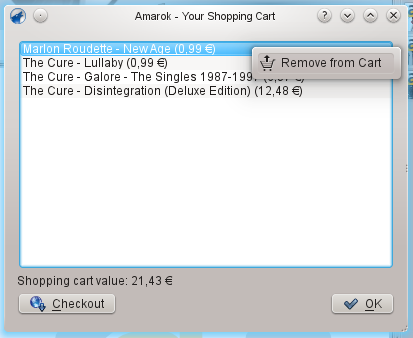 The item is then being removed, the shopping cart value updated: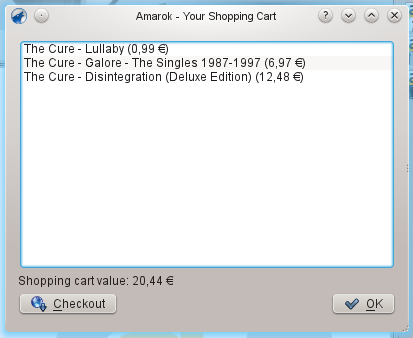 Finally pressing "checkout" in the main window or the shopping cart opens the Amazon site in your default browser, where Amazon asks you for confirmation to really add these items to your shopping cart:

Sadly due to API limitations this does not work that easily for Amazon.com.
For downloading the actual tracks you need the Amazon MP3 downloader, Clamz or Banshee. Our own downloader will be ready for Amarok 2.6.
And of course Amarok gets a share of the profits made by this service.
This concludes our short tour. Have fun rediscovering your music! :-)
PS: The API we are using is also available for other projects.