Some time has passed since I last blogged about the Amarok Amazon MP3 store integration. Much polishing has taken place since then. But during the last few days a few major features have shown up as well. And one might even kill a showstopper for Linux on the desktop for many users.
AMZ Downloader
Amazon really sucks in terms of usability. If you buy more than one music file they don't offer a package with several MP3s in it for download, but an encrypted .amz file with download instructions. Even worse: Their application to handle those is proprietary, buggy and seems to be broken on 64 bit systems. But fear no more, those dark times are over! I hereby present: AMZ Downloader, a small utility to make downloading from Amazon as easy as eating a pie.
The screenshots should tell you the rest:
Opening an .amz file is a matter of one click.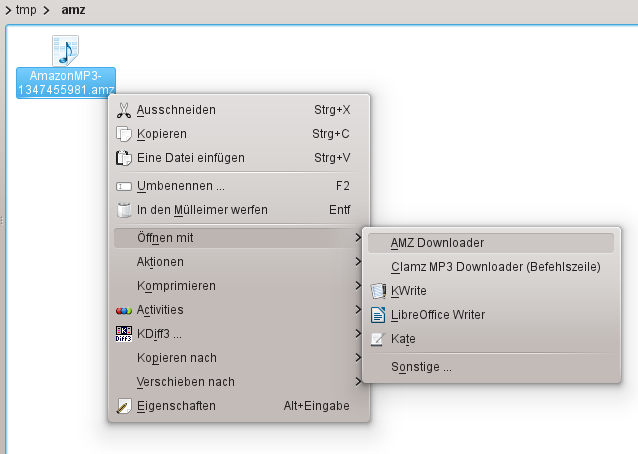 Downloading just takes another one.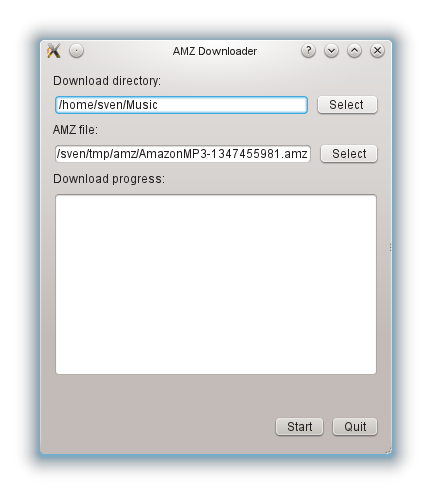 From a technical point of view the AMZ Downloader is also quite interesting. It is a separate utility, only requiring Qt and clamz, a command line .amz downloader. So maybe we are going to see AMZ Downloader shipped with other music players than Amarok, too? We'll see.
Context view
But that's not all there is. Amarok now offers further infos about a selected item in the context view.
And it's not just viewing, it's browsing! Click on an artist name to browse through the store and discover other stuff from the artist. Clicking on a song adds it to the playlist. And you can also add a song to your shopping cart with one click.
Amarok Amazon URLs
This is possible thanks to Amarok Amazon URLs, which have been enhanced in latest git. This one for example searches for "Cure" in your store and that one adds a great album to your shopping cart. This could be a great area for script developers to play with...
So, you want it?
Check out git master or wait for Amarok 2.7, our most awesome release ever made!